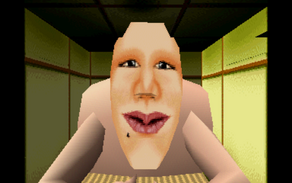 The Giant is usually referred to be a humanoid monster or a giant baby. On it's right cheek, there is a small mole. It's body is a pale color, while it's face is slightly tanned. It appears with a large nose and a squished, tall head. Since the monster is placed in an obscure area of the yellow house and the way the camera pans, the player will often be scared by it's sudden appearance.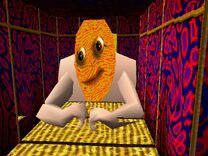 On occasion, the Giant will appear with a yellow face with orange stripes placed randomly across it. It's eyes become much bigger and the head is tilted to the side, as seen to the left.
Ad blocker interference detected!
Wikia is a free-to-use site that makes money from advertising. We have a modified experience for viewers using ad blockers

Wikia is not accessible if you've made further modifications. Remove the custom ad blocker rule(s) and the page will load as expected.