By signing up you agree with these rules automatically.
The Rules
Edit
-Respect staff members and fellow users
-No Spam
-Don't add categories unless you ask a staff member
Punishments
Edit
-Break rules once
Warning
-Break rules twice
One day ban
-Break rules three times
One week ban
-Break rules four times
Permaban
If you'd like to appeal, go ahead. we don't block you from using your own talk page when you're banned for the very reason of allowing you to appeal.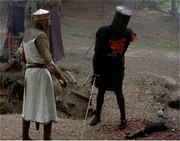 Don't worry about how your ban record affects your record. A bad record pales in comparison with being a helpful user, so if you are generally a good user, and you slip up, the ban tis' but a scratch. We might even unban you.
Ad blocker interference detected!
Wikia is a free-to-use site that makes money from advertising. We have a modified experience for viewers using ad blockers

Wikia is not accessible if you've made further modifications. Remove the custom ad blocker rule(s) and the page will load as expected.